Vogue Knitting Fall 05 Rundown
I recently bought the Fall 2005 VK and I'm pretty happy with the contents--while there are the inevitable "Aaagh! What is that?!" moments, there are some intersting designs too. Since of course, I am procrastinating and not wanting to study glycosylation, I present--my wish-list: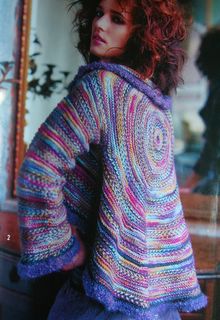 My initial reaction to this was "Is she aware that a kitchen rug has jumped on and is attacking her back?!" Upon further inspection, however, this is actally an interesting take on the circle shrug idea. The "gypsy" colorwork, however, is just not for me. Perhaps if I can think of a more muted colors to make it in I could give it a shot.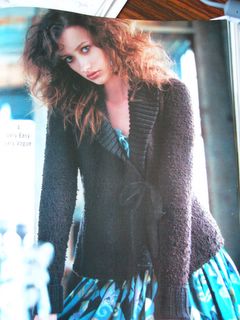 This for me is probably the most wearable of the designs in here. It reminds me of a delicious chocolate bar. If only I could yarn-substitute in such a way as to avoid the $100 price tag...
I love
these gloves
. The opera length ensures I'd never actually wear them...but they're just adorable.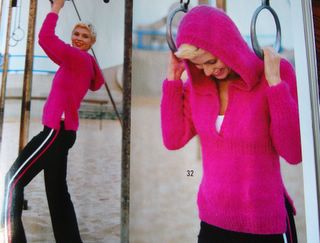 I don't know how sporty I would consider angora, but I have some Cotton-Ease in bright pink that would be PERFECT for this. The question would be, of course, whether I would feel like a small child again in a neon-pink hoodie. Cute, either way.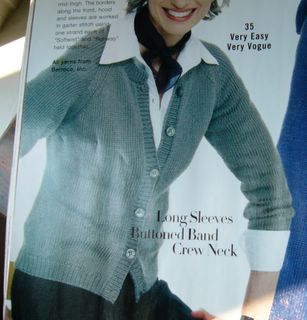 I correct my earlier statement that the brown shawl-collar cardi would be the most wearable--you can never have too many classic cardigans--but then again, it feels almost too boring for me to spend time knitting it!
As for the rest of the magazine--I have to say I wasn't impressed by the cabled sweaters--they looked chunky and unflattering (and this is on the model, imagine what it would look like on a "real person"), and I really have no use for cropped sweaters. I might consider
this one
minus the fluttery trim. The model for the vests actually looks ADORABLE in all of them but I would not. The shawls are beautiful but I don't have the patience right now (and also have 2/3rds of a crocheted shawl on the back-burner).
But really, the take-home message needs to be: I'm NOT going to start anything else, despite drooling over all of it. No. No. No. Don't have the time.
Stupid med school.