Knit/Sew Swap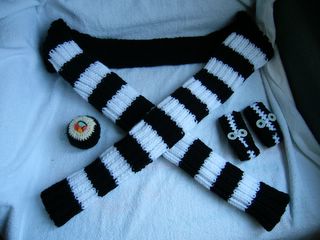 Yarn: Bernat's Softee Chunky in black and white
Needles: #10 Denise
I made this for my partner in Craftster's ingenious
"Knit but can't sew, Sew but can't knit Swap"
. She wanted a striped shrug and so I made one based on Magknit's
Hug
. I wanted it to be snuggly and made it ribbed for a perfect fit. I like the softee chunky because even though it's acrylic (easy care, everyone) it actually feels soft. I made a little sushi pincushion since she's a seamstress and some wristcuffs because she mentioned she wanted them and they're just fun and easy to do. I'm happy that she liked them and I love making things for other people.