Haulin'
You may remember a while back I mentioned that my talented mother won $75 at Michael's for being the fastest knitter. Today we went over there and cashed it in: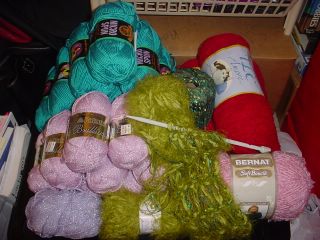 Look at the pile!
We got yarn for three sweaters and lots of bonus.
-10 skeins of Patons Brilliant in an adorable lavender sparkle--surprisingly soft for a sparkly yarn, and on sale, to boot!
-3 skeins of TLC Amore in a red color my mom likes
-10 skeins of Lion Micro Spun in a brilliant blue
-1 skein of pink Bernat Soft Boucle
-1 ball of Bernat Matrix
-2 skeins of Moda Dea Eden in that grass green I've been obsessed with lately. I've been actually eyeing this yarn for a while. I try not to buy yarn that's not for a specific project, so I've held off until now.
Yay free yarn! Now my mom has yarn to knit herself sweaters (quickly) with!
And, err, I got some yarn out of it too. Sweet.