Holy Moly!
Look at the great stuff I got from a lovely Unconditional Swapper (from
Craftster
)! I wished for a embellished wifebeater but I got the PERFECT tank top AND bonus awesome artwork. She stenciled it just for me and even added Mack at the bottom left!! Look at him!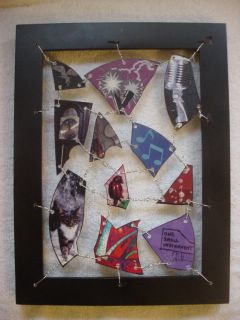 The artwork is made with CD pieces (would you believe it?!) and is FRICKIN' SWEET.
An action shot in bathroom mirror.
I am SO lucky.