White Cleo - Finished!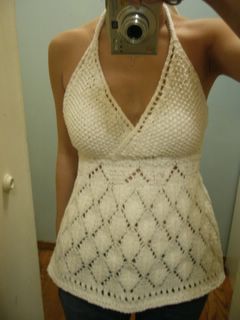 Front
Back
Whoo! I'm going to be one hot mama...if summer or even spring EVER arrives in the city.
I love how the falling leaves pattern looks in this cotton, and it kept my interest going I think more than stockinette would have. I made the front apron about 3" longer to give the pattern more room to develop, if you will.
I liked this pattern, too--how it allows a custom fit and really is beautiful in its simplicity. I only used one band of elastic at the top edge of the lace band, since it seems to be enough to keep the top in place. (And also I only had enough thin elastic for one band...though I have yards and yards of wide elastic, bias tape, piping, lace hem facings, etc. etc.)