Score!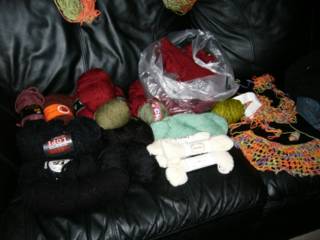 Picture of various yarns acquired at rummage sale. In the bag is a half-finished sweater with an unexpected bonus pair of both straight and circular needles. I hate to unravel but the color scheme isn't for me, and neither is the size. Also a half-finished/unraveled mardi gras multicolor thing (capelet?) with a tag that says "Capri" somewhere in there. Congratulate me, 95% of this yarn is NOT acrylic!
In addition to the yarn and notions, I picked up half a dozen tremendously exciting pattern books/pamphlets.
Oh, and I got about 30 books, ranging from my favorite modern library versions of classics dating from the 40's to Nick Hornby's
How to be Good
. The star purchase is a copy of Simon de Beauvoir's
The Mandarins
.
Today was the best rummage day ever.