Newest WIP-to-be?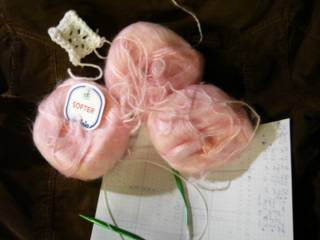 I know, I know, I know. I finally managed to take two projects off the WIP-list and I'm already looking to start another one?!?!?!?!
These are my three balls of half-mohair we got at Smiley's Hotel Sale--I've been itching to make something with these babies (shut up, unfinished holiday gift knits!) and just trying to think of something cute. The mohair is far too static-inducing for a hat or straight-up scarf, so I thought it might make a nice lacy shawl. While googling "mohair stole" I came across
this moebius stole
and the switch clicked.
SO I've spent my entire evening so far thinking about this project (with a quick break to bake and eat stuffed zucchini) ; practicing/charting the little lace motif, writing out the pattern, and swatching for gauge.
Just as I'm about to start...I realize I have no idea how to do this half-twist thing and have to google again and find
this
. I really really really want to test this whole procedure out before doing it on the mohair (frogging mohair--ooog) but...what the heck, we'll see what happens (and the smiley's sale is still on for a few days if I need to buy new yarn...hehe.).